Yesterday afternoon Rachel and I took a drive to visit our brother Tim who has been in the hospital with cellulitis for nearly three weeks now. We have been hesitant to visit for fear of upsetting him, but we stopped at Wendy's on the way and picked up three Frosty's hoping the treat would help keep him settled.
Tim has a severe form of autism and is basically nonverbal. Though we have called the both the hospital and his home several times during the past few weeks, we have not been able to talk to him. Instead we talk to caretakers and nurses who have been more than happy to share information with us. Each time they have expressed hope that Tim could go home within a few days time.
Tim was asleep in a hospital chair when we arrived. Rachel woke him and we shared our Frosties. He eats so fast! You would think "brain freeze" would slow him down, but apparently he's either used to it or it just doesn't happen to him. And then we walked the halls, three times down and back. At one point Rachel said, "I love you, Tim," and he answered back with a low and mumbled, "Love you." I smiled.
Rachel and I went home happy, glad that we visited, and relieved that Tim didn't seem too upset that we couldn't take him out for a ride even though he did steer her toward several different doors on our walk about the floor. We forgot to take our cameras, but I have in my mind, a picture of my big brother smiling at his baby sister, love in his eyes. He always has loved Rachel.
#1000 A visit to my brother in the hospital. (And a Frosty to go with it.)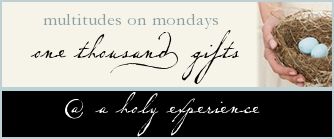 PS. Don't miss Simon's haircut below. :)